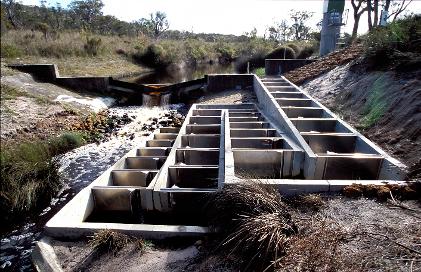 NODE LEADER:
Dr Paul Close (UWA)
BACKGROUND:
Listed as CRITICALLY ENDANGERED, the Trout Minnow is one of Australia's rarest fishes. The species is found in south-eastern and south-western Australia. While some east coast populations are diadromous (i.e. they have a marine larval stage), the Western Australian populations are land-locked and spend their entire life in fresh waters.
Currently we only know it from the Goodga, Angove and Kent Rivers, although our aim is to find out more about its life-cycle and distribution in the Kent River.
DEMONSTRATION SITES:
Goodga and Kent Rivers.
FURTHER READING:
Colman, J.G. (2010). New records of Galaxias truttaceus (Galaxiidae) in the Kent River catchment, southwestern Australia. Journal of the Royal Society of Western Australia 93: 189-193.
Morgan, D.L. & Beatty, S.J. (2006). Use of a vertical-slot fishway by galaxiids in Western Australia. Ecology of Freshwater Fish 15: 500-509.
Morgan, D.L. (2003). Distribution and biology of Galaxias truttaceus (Galaxiidae) in south-western Australia, including first evidence of parasitism of fishes in Western Australia by Ligula intestinalis. Environmental Biology of Fishes 66: 155-167.